Supervision of your children by an experienced instructor
Summer / Winter Season
Training lesson over 6 days
2 group leaders / 12 children
Different activity every afternoon
A LITTLE WORD FROM THE INSTRUCTOR
Sandrine and the children…
a beautiful story 🙂
The supervision and teaching of the children is a real pleasure for me.
Caring and Safety are essential to my program and I thank parents for trusting me for so many years… summer, as well as winter!
Summer Staff
Sandrine and her second son Raphaël, form a perfect duo to supervise the children during the summer internships in Megève.
Raphaël, 19 years old, very attentive to children, is also a BAFA holder and has already supervised summer camps, he is also very popular with children, on skis, as in summer 😉
Because in addition to studying Chiropractic in Toulouse, he is also preparing his ski mentoring, after having sports and ski studies.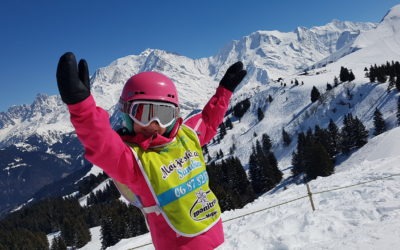 I hope you had a wonderful summer vacation with your family. Everyone must have taken the opportunity to rest well! The school year is behind us; each child has found his place at school, with pleasure I suppose 😉 The most forward-thinking people are already thinking...
Registration for the summer camps has been underway for several weeks and the activities offered are in place. A mountain walk, picnic, summer sled and accrobranche for Sunday. Then from Monday to Friday: tennis camp in the morning, picnic at the pool between 11:30...
After this superb winter season, where snow and sunshine were widely present, many small skiers achieved great feats. And they returned home with beautiful medals! Congratulations children, it was a pleasure to help you progress, see you next year!
Contact Us
Location: Megève  – FRANCE
Telephone: +33(0)6.87.82.24.38
Email: sandrine@monitrice.fr
Hours: 9h – 19h
Contact Us
Location: Megève  – FRANCE
Telephone: +33(0)6.87.82.24.38
Email: sandrine@monitrice.fr
Hours: 9h – 17h