Children from 4 to 13 years old
Afternoons Trapper Training Courses – Winter 2023
Afternoons Trapper training in Megève (Caboche / Le Tour) School Holidays
During school holidays, afternoons from SUNDAY to FRIDAY, from 12:40 to 16:00 (50€) or from 13:40 to 16:00 (70€)  for children aged from 4 to 13 years old.
 – 30% for the 3rd child of the same sibling.
Meeting point at the Caboche, under the PIOU-PIOU. Activities between the Tour and the Lac de Javen. If you arrive at 13:40 RV Chemin des Raverots, in front of the 1st ski lift. And at 16:00 ditto or return to Caboche.
Pedagogy and discovery of nature in a different way: Snowshoes, making huts, igloos, meals in tepees, sledging, Olympics … a whole programme to amaze your children, according to the conditions of the moment.
Everything takes place outside whatever the weather, so the children must be well covered and equipped with the material requested above. Tepee assembled according to the place.
The children are supervised by mountain specialists who are used to children and who pay great attention to them.
Meeting places are given each evening for the next day, depending on the weather, on the Whats'app group of the week. Parents must take and pick up their children each day with their vehicle, less than 5km from Megève.
Equipment of the Little Trapper
– WATERPROOF SKI HOLDING (except helmet), SNOW BOOTS (no boots), WATERPROOF GLOVES, BONNET at your waist, NECK WRAP, SLIMMINGS/SKI MASK, SUN CREAM.
– In the BACK BAG practical to carry: hot meal in an isothermal box like Thermos (Stanley 0.4L perfect), hot or cold drink, plastic bag with spare gloves and socks, snacks.
– 1  shovel SLED  which is used as insulation to sit down at lunchtime + to make the sledge to be taken every day (no big sledge) .
Depending on the place and the groups, meals in tepees are possible.
Mark the items with the child's name so that they do not get mixed up or lost.
 No phone in the pockets please. I send photos and videos of the day on the Whatsapp group.
Activities for 2023 (no dogs, no cross-country skiing)
Sled dogs
Wonderful experience for the small mushers, who will drive their own sled pulled by 2 dogs. The musher will explain to them how the sled works, then leaves them alone to do a loop, in complete freedom.
Snow sculptures
Let's let the imagination of the creative and ingenious children run wild and create beautiful, ephemeral, but carefully crafted sculptures 😉
Snowshoe workshop
Once they have the snowshoes on their feet, the children are very comfortable moving around in the woods, along a rope, and even guided by their friends with blindfolds on!
Team games Koh-lantrappeur !
The Olympics, they love it ! Team games, a cheerful atmosphere and various activities of skill, speed, concentration, to make your team win and all help each other.
Igloos
La fabrication d'un igloo est une expérience unique avec les Making an igloo is a unique experience with the advice of a specialist. Whether it is made from blocks or from a large pile of snow (depending on the quality of the snow), the result is impressive and the sound test from the inside is incredible! 
Huts
 Making the huts in small groups is always a great time for children. They organise themselves, think, decide and share tasks, helping each other to achieve a great end result, especially when they explain their methods. 
Tipi
For a "Trapper" atmosphere and protection from the cold and the wind during meals, the tipi is also a refuge for the youngest, depending on the place of activity.
It is also an assembly exercise for older children.
Miscellaneous
When you register, you must provide proof of insurance for your child, in addition to that provided by the organiser.
Travel is by parents' car.
Any cancellation within 48 hours is due, as supervision and expenses are incurred (except medical certificate).
Please ask Sandrine by phone or by email to register.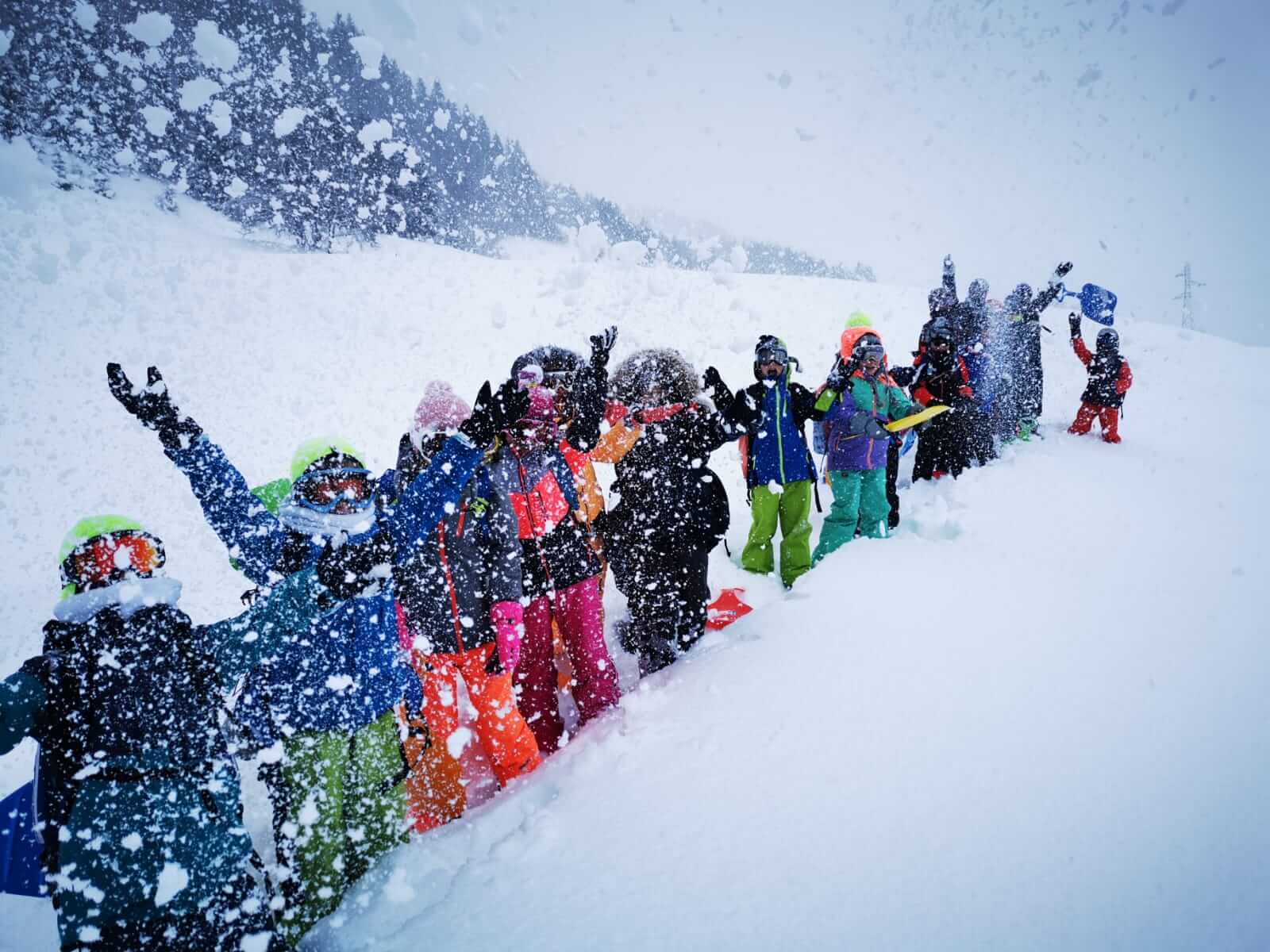 When we ask our children when they get back to Paris what they liked best about their holidays and they answer in chorus "the days with Sandrine"...
and Christmas, no, it wasn't cool as a holiday time either?
"Well yes, but with Sandrine it was all too cool, we only did too good things!
So that's it... Sandrine, stronger than Father Christmas 🎅🤩👏! Now the holidays in Combloux = we're going to meet Sandrine again 🥳
So big kisses from the boys to share with Raphaël! See you soon! 🥰
Caroline
Thank you very much for the course, the children loved it and had a great time. The activities were varied, fun and sporting.
They made new friends and lots of great memories.
A big thank you to Sandrine for the great organisation and the good mood. Bravo and thank you
Irma
In this complicated period, Sandrine has succeeded in organising many and varied activities (cross-country skiing, snowshoeing, laser games, igloo etc.).
My three children (5, 11 and 13 years old) had a lot of fun.
The organisation was optimal and the atmosphere very friendly.
I highly recommend it!
Pauline
Contact us
Sandrine JANET
Lieu: Megève  - FRANCE
Horaires: 9:00 - 22:00 - 7/7